Description
English Beginners Course A1 to reach the English A1 level.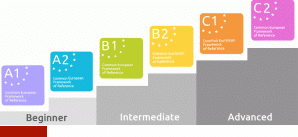 Duration: 7 weeks
Last lesson: 7th of March
Amount of lessons: 14 lessons (2,5 hrs. each)
Total amount of hours: 35 hours
Lessons per week: 2 lessons/week
Amount of students: 4-8 students
After the course you will receive a certificate for the English A1 level
How to sign up: Click on the button 'Sign up directly' to book your spot immediately.
For this course the books of New Total English Starter (students' book + workbook) are needed.
Do you still have questions? First check our Frequently Asked Questions 🙂